Ireland is found in the North Atlantic Sea where is is separated from Great britain by the North Channel, the Irish Sea, and St George's Channel. It is the second largest island of the British Isles.
Many forms of Gambling have been regulated in Ireland for centuries. Throught history, Ireland had a distinct horceracing industry along with a rich cultural history betting both on and off the course.
Corporate Tax: 12.5%
Gambling Tax: 2%
Irish bookies pay 1% tax on all bets placed through their service.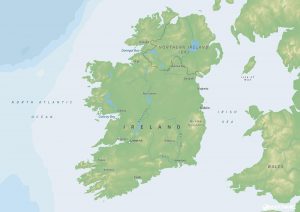 Who manages e-gambling in Ireland?:
Online betting is regulated by the Revenue Commissioners. Lotteries are regulated by the Regulator of the National Lottery, An Garda Síochána (Republic of Ireland police), or the District Court.
Overview:
Online gambling has been legal since 2015 after the passing of the Betting Act of the same year. Ireland allows for both local and foreign operators to apply for remote licenses and therefore have a wide variety of sites offering casino games. Land-based casino's on the other hand are run as Private Members Clubs. This is typical across Europe. Upon entering the casino, you will need to be registered as a member to enter.
Ireland Gambling License fee:
The initial fee for remote betting intermediaries and bookmakers is EUR10 000. The renewal fee for a remote license will be determined differently for each entity. Bookmakers will pay a renewal fee based on their turnover while betting intermediaries will pay a fee based on their annual commission earnings. The costs can range from EUR10 000 to a maximum of EUR200 000.
Ireland Gambling License Length:
Standard license last for a two year fixed period. Regardless of the date of issue, licenses will expire at the very end of a licensing period.
Anti-Money Laundering Policy:
All operators within the Irish market must comply with the obligations of the Criminal Justice (Money Laundering and Terrorist Financing) Act 2010.
Country Restrictions:
Gaming in Ireland is
essentially
prohibited under the Gaming and Lotteries Act, unless it falls under the following exemptions:
Gaming operated in such a way that it falls outside of the definition of unlawful gaming

Gaming within traveling shows, circuses, or carnivals.
Contact Details:
Revenue Commissioners:
Address: Upper Yard, Dublin Castle, Dublin 2, D02 F342
Information: +353 94 903 4425
Website: https://www.revenue.ie/en/Home.aspx
Licensed Online Casinos in Ireland:
Lucky Days

Dream Vegas
PlayZee
Mr Green
Fortune Legends
Casiplay
Genesis
Dunder
888 Casino